PBIC Community Outreach Activities
The PBIC participates in community outreach in several ways. Most outreach is done through demonstrations at local schools. Students are given a short oral presentation by ICS grad students, professors or PBIC personnel on seismology, geophysics and/or modern technical instrumentation. Presentations are also sometimes done cooperatively with personnel from the Geological Sciences Department at UCSB. Following the oral portion of the presentation, PBIC instrumentation is used to demonstrate modern data acquisition systems.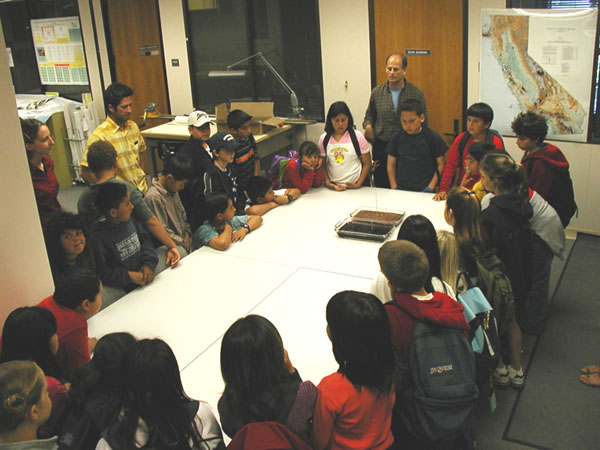 Marc Kammerling uses brownies and jello to demonstrate the differences in soil characteristics.
The best part is that the kids get to eat the model when they are done !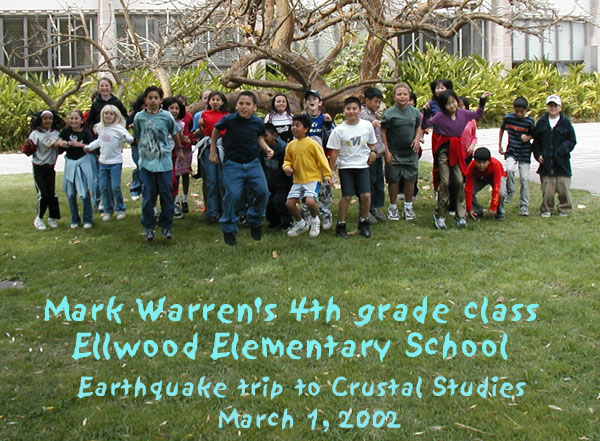 Mark Warren's class does a group jump for the seismic recorder.
A printout of the jumps are created for the kids.
Community Outreach Events
The PBIC also gets involved in community organized activities.
PBIC personnel developed and maintain a more general outreach web site oriented towards schools. This development was done in conjunction with Jamie Steidl's SCEC Borehole Project which has installed borehole seismometers at several school sites in the LA metro area.